Two awards for "I'm Not There" at Venice
I'm Not There has won the Special Jury prize at the Venice Film Festival!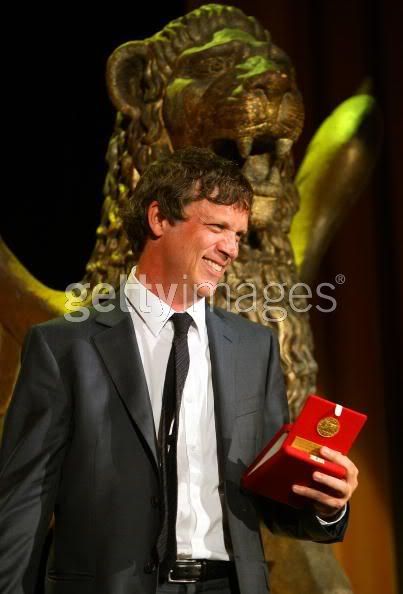 "US director Todd Haynes poses with his special jury award during the closing ceremony of the 64th Venice International Film Festival at Venice Lido, 08 September 2007. The Venice film festival awarded special jury awards to US director Todd Haynes for his unique Bob Dylan biopic and Franco-Tunisian director Abdellatif Kechiche (for 'La Graine et Le Mulet')." (quote and pic from gettyimages.com)
Cate Blanchett was awarded the Best Actress prize, the Coppa Vopli, for her performance in "I'm Not There." "Blanchett played one of seven characters representing different phases of Bob Dylan's life in the biopic by Todd Haynes, "I'm Not There." She was not present to accept the best actress award. "I'm sorry I can't stand here throwing my arms around Todd, weeping just like a woman," she said in a statement read out at the ceremony. (by Heath Ledger)"
(AFP)
I was annoyed at the cheap Oscar posturing about Cate that Harvey Weinstein was making last month but these awards are a good indication of the respect fellow filmmakers hold for the film. Venice is the world's oldest film festival.
The official site
here
.
Comments {5}